A4 prints available, see print information gallery









Photographs by Rex Thompson.




Maxine Cameron graduated from the Norwich School of Art in 1983 after spending one year at the Ecole des Beaux-arts de Nimes, France. She has worked as a practicing artist ever since. From a body of work ranging from life models to extensive figurative and expressionistic landscape studies of the East Anglia region of the UK, she passed through a period of abstract painting and heady surrealism en route to a lengthy excursion into metaphysics and quantum reality. The result is the Paradise series. From these she is producing smaller oil on acrylic derivatives and digital derivatives.

Winner of the Sir Winston Churchill Award for most promising 1st Year Student.

She has exhibited in numerous galleries and public forums throughout Glasgow , S. France, Norwich , Norfolk, Suffolk Galleries, the Boxford and Lavenham Galleries and in London, The Tricycle Theater, Young Unknowns, various one man shows in Portobello & Camberwell. The Gagliardi Gallery, and Northcote Gallery and various community art projects in hospitals and other public venues. 'Paradise in Blue' chosen for exhibition in the international About Vision Showcase 2002 website. Gallery 14 Global Cafe, Golden Square, London.


Click to visit the About Vision Showcase 2002
Unknown Gem Type: tlx.tlxinv.guestbook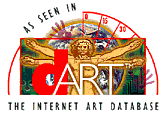 .